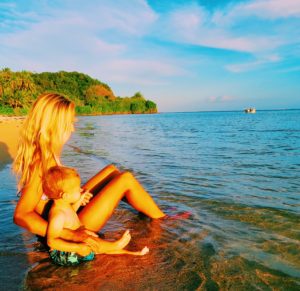 From the second that Fijian Airways didn't charge us for our board bag at LAX, we knew we were destined to have a radical trip to Fiji. The red eye was easy with both kids. We woke up and we were in Nadi.
We spent the first half of our trip on the Coral Coast at the Beach House. This part of the island is beautiful. There are waves, mountains and hiking trails and there is an awesome river that you can kayak down. Parts of the river have a rainforest canopy. It is so beautiful, that its nickname is the river of Eden. We spent about 2-3 hours kayaking downstream with a stop for lunch at a waterfall and a few super minor rapids.
The Beach House had great vibes. The rooms were traditional and gave us the proper Fijian experience. The Fijians are also among the friendliest people we have encountered in our travels. They kept taking our kids and carrying them around and feeding them. We came back from an excursion to find our 11 month old son, Reef, in the kitchen eating sausages with the chef. One thing that you might want to plan for if you stay there is the mosquitos. We got eaten alive and we put our mosquito repellant on every night…it didn't seem to matter. To outweigh the awful mosquito situation is the $2.50/hour (USD) babysitting that they offered. The property is absolutely beautiful and is on an incredibly beautiful beach.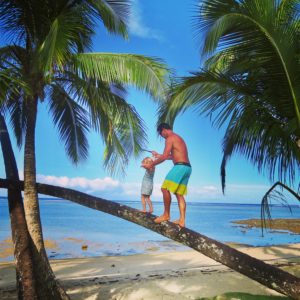 We surfed at Frigates Pass, which is a reef break in the middle of the ocean and I almost drowned. The swell was maxed out, the tide was low and I took an 18-20 foot face cleanup set right on the head. 3 of them. Terrifying doesn't begin to describe the emotions I was feeling!!! I still can't believe I held my breath that long. If you ever surf pumping Frigates, don't bring a 6'6", bring something way bigger!!!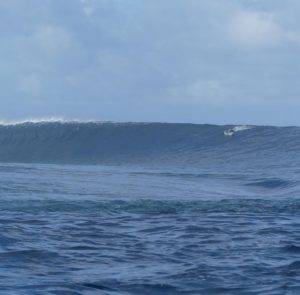 We also took a day trip to Vatulele by ourselves. We got to meet the chief of the island and get his blessing to go see the Red prawn caves. We jumped off a waterfall, swam under caves, beach combed, and snorkeled alone. That's right…alone! We also ate a traditional Fijian meal that she fisherman had just caught and brought to the beach. It was so good. It took about an hour to prepare and we explored the island while the locals cooked the fish and made the marinade.
We spent the second week at the Rendezvous surf camp outside of Nadi. Henry was a rad host. We started off with a kava drinking ceremony (make sure you request low tide) and then surfed our brains out all week while the staff babysat our kids for FREE!!!!!!!! Yes, you read that right. We scored Cloudbreak, Namotu Lefts, Wilkes Pass and we got tube after tube. We also saw a dude from San Francisco get scalped at Shish Kabobs. That was super heavy. Try not go get sucked over the falls at Shish Kabobs…that's a really bad idea. The surf was super fun and back at Rendezvous, we met cool surfers and hung out with our kids as we let our mosquito bites/welts subside. Henry's dad, a Kiwi, took us to a white sand beach down the road and we snorkeled and had a good conversation about New Zealand and Fiji. Nadi is not a very pretty town, but it is close to Tavarua. Tavarua is comparable to the place you end up when you spent your whole life doing good to other people and then you die. Rendezvous was affordable, had babysitting and killer grinds. They have clean rooms too and the mosquitos are pretty sparse, given that it is dry and hot there and not green or rainy.
Please follow and like us: