We've visited Costa Rica a few times and have scored great waves each time. What made this last trip unique was going in the off season. October is the month of the year that has the lowest tourism, which means we got those same great waves and beaches with almost no tourists.
We stayed at the Hotel Playa Negra in one of their adorable bungalows. This hotel is perfectly set up right in front of one of Costa Rica's best waves. They had a babysitter available, so both of us could surf together in the mornings. The best part of that was that they charged us $6/hour, which came out to $3/kid/hour. We were able to surf Playa Negra with less than 10 of us out all week. The only downside to going in off season is that the whole town is basically closed. We had two options for our meals (both were pizzerias), but at least they were both really good. We didn't have a rainy day, so we scored on the weather, waves and lack of crowds. If you're looking to take a trip to Costa Rica, and don't want to wait in line and have enormous tourists photobombing all your vacation pictures, October might be the month for you!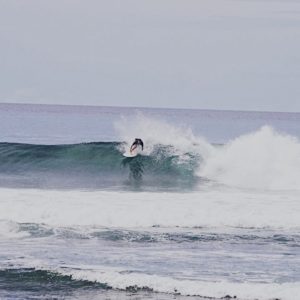 Mike surfing Playa Negra
A failed search for baby turtles led us to an impromptu journey into the Nosara area. We found gorgeous beaches and tide pools that we explored for hours. Once again, lonely beaches, beautiful scenery, no photo bombers.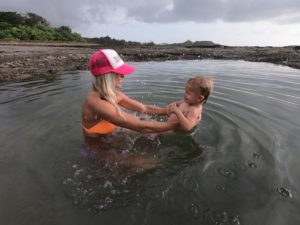 Our final night we stayed in Tamarindo at the Pueblo Dorado Surf Hotel. It is right across the street from the beach and it was only $45/night. That price also includes a gourmet breakfast, which cost about $15/per person. Combine that with wifi and AC, and you had a really cheap stay with everything you could ask for. That was a perfect budget hotel for a family.
Please follow and like us: