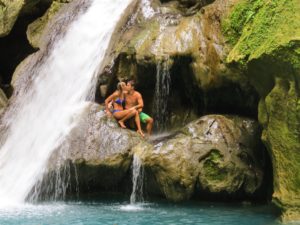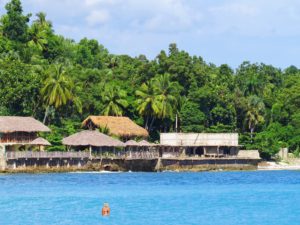 There's a pretty good chance that you have never thought about going to Haiti on vacation. We never had either, until a month before we went. Part of the adventure of traveling for us is going off the beaten path and doing things that most sane people would never consider. Every time we had heard about Haiti in the past, we saw poverty, disease, natural disasters, corruption, chaos. As we sat around our world map and thought of affordable destinations that we could do in 5 days, we asked ourselves how bad could it be to visit a country in the caribbean that has virtually zero tourism. After a little research, we decided to pull the trigger. We quickly got in contact with a local surf organization called Haiti Surf and asked them where to stay and what to do. We found out that Winter is actually the best season for waves in Haiti, but we were determined to surf anyways.
We flew into Port-Au-Prince and it was exactly what we had imagined. Trash everywhere, people everywhere, dust everywhere…We were pretty excited to get out of there and up into the mountains and South towards Jacmel. The ride was hot, dusty, bumpy and windy. It was supposed to take 2.5 hours but ended up taking almost 4 hours because of the traffic. It was a pretty scenic drive once you left the city. Once we got to Jacmel, it looked like a typical beach town on a caribbean island (which means laid back and beautiful). We could have been in Puerto Rico or Barbados for all we knew! We got the boards off the car and jumped into the pool immediately to cool off. In case you didn't know, August in Haiti is hot! We were the only people staying at the hotel. We stayed at the Villa Nicole hotel. It is right on Kabik Beach, which is one of the best surf breaks in the country. It is also a clean beach, with very little litter. It is isolated and beautiful. We had a local show us around since nobody speaks English in Jacmel. Our surfing buddy, Alex took us around and brought us to an empty palapa where we sat right on the shoreline. A waiter came out and we pointed to what we wanted, since we could not communicate with him verbally. We waited almost two hours for our meal. Not just this meal, but every single meal in the Jacmel area…They apparently don't use ovens or other appliances, but cook over a fire and charcoal. Every meal is made fresh. The food was incredibly and unexpectedly good. The seafood was amazing and the traditional dish, called Lambi, was really good. Insanely good, actually.
Our vacation was actually very relaxing and romantic. Not only were we the only tourists the entire duration of our trip, but we were also the only white people around.  We usually do a pretty good job of blending in wherever we go, but…not so much this time. The white sand and palm tree lined beaches and caribbean blue water were more enjoyable without a bunch of other tourists photobombing, talking loud, walking slow, stopping right in front of you to take pictures…so it was a HUGE bonus.  Imagine spending all day with you and your significant other with very few people around. It was much more of a romantic and intimate vacation that we were expecting.
The number one attraction that we enjoyed was Bassin Bleu. It was a crystal clear waterfall that had three different bassin/pools. The water looked just as blue as the Caribbean and there were none of the aforementioned tourists. NONE. Only a few locals hung out at the lower pool and washed their clothes, and we had the whole place to ourselves. You could easily spend an entire day there swimming, climbing, jumping, squeezing through tiny crevices and exploring. It was absolutely incredible and it only cost about $.50 to get in per person.
We surfed Pistons, which is the best wave in Haiti. The lineup is right next to an 80 year old 20 foot engine sticking out of the water. The beach was the most trashed and littered beach we have ever been anywhere in our travels. We were about knee deep in trash. Mike actually paddled out with his sandals on. He has surfed in well over 20 countries and in some murky and questionable lineups, but nothing like this. We had no idea what was on the bottom, so we walked out in our sandals and surfed with them tucked into our board shorts and bikini. We made sure to exhale vigorously while underwater and to not open your mouth unless our life depended on it. That water was probably gnarlier than the beach break in front of the Tijuana River. We had a good session and no one got sick. If you want to surf here, you can stay anywhere in Jacmel. We would highly recommend giving this place a try. No crowds, fun little waves and a kick back atmosphere. It might be wise to get your Hep A shot…but if you surf, you probably have one anyways.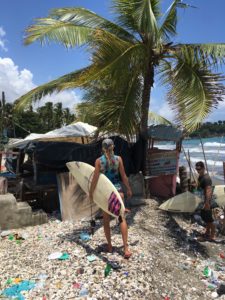 We stayed in Port-Au-Prince the last night of our trip at the Hotel Oloffson. It was a plantation mansion built in the 1800s and has a really cool and rich history. Now its a rad hotel. It has a really cool feel with the plantation architecture and voodoo decorations,that sets Haiti apart from the rest of the world. Each room is named after a famous person that stayed there back when Haiti used to have a booming tourist industry. We stayed in some suite of some author that we never had even heard of. You win some, you lose some! We attempted to take a walk in the town and we quickly realized after about 1/2 of a block that was a really bad idea. Port-Au-Prince is not what we would call the safest city on earth. Jacmel was fine, but PAP was sketchy to say the least.
It was a great trip; it was very unique in so many ways. We are glad we took a chance. We don't have much of a comfort zone, but we are glad we stretched it and got out of it. Haiti has a bad reputation, but if you're adventurous, you SHOULD NOT let that deter you from visiting. It is a unique culture with great food and really cool art. The people are very nice and happy. We couldn't communicate with anyone (we don't speak Creole of French) but we could feel their friendliness and beauty. It was really awesome going somewhere that no one goes. We like challenging the status quo and doing things that we aren't supposed to. Haiti was no exception, and we scored big time!
Please follow and like us: